Welcome To PT 617 Physical Therapy & Performance LLC
Are you striving for good health and fitness, but facing obstacles due to an injury hindering your ability to exercise?
Is an injury preventing you from engaging in activities you're passionate about, such as working out, running, CrossFit, or playing basketball?
Have you been grappling with a persistent injury that just won't seem to go away?
Have you sought help from other healthcare providers in the past, but experienced only temporary relief?
Does This Sound Like You?
If this resonates with your situation, we specialize in addressing these challenges with our clients.
Our primary aim is to support you in maintaining an active lifestyle, regardless of your chosen training regimen or sport.
Life becomes infinitely more enjoyable when you're free from pain and able to partake in the activities you love.
Furthermore, being in peak physical condition is the optimal way to cherish moments with your friends and family.
Our mission is to empower you to lead a high-performance, pain-free life that you rightfully deserve.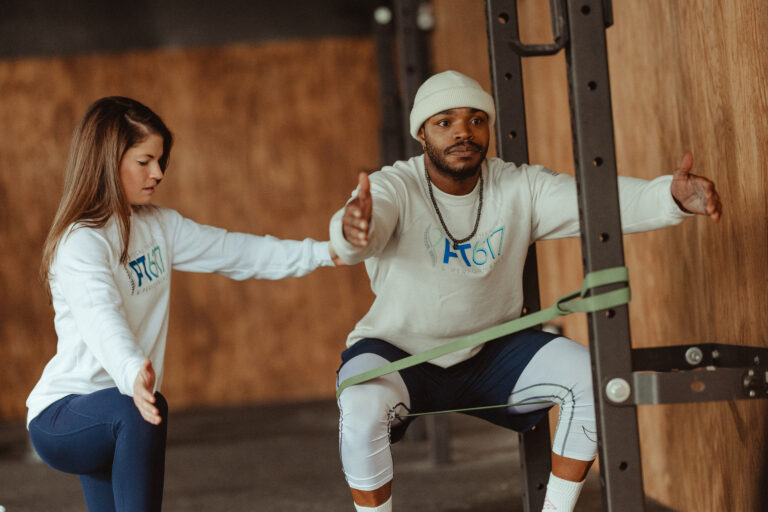 Crossfitters/Gym Enthusiasts
Who don't want their pain and stiffness to interfere with their training goals and are tired of being told to "just stop lifting" or working out.
Who want to safely increase their mileage while reducing the aches and pains, as well as lower their risk for injury.
Who just need a little help (or a lot of help!) getting back to the activities they love after an injury or set-back.
Who want to continue pushing their limits, but are being held back by an injury or pain.
Who have poured all their energy and love into their children, who have now grown, and want to enjoy this next phase of their life with their spouse without being slowed down by aging.
Who are struggling with feeling confident in their body and confused about how to start exercising again so they can get back to healthy activity.
Who need to keep their bodies performing at their best, without painkillers or visits to the GP.
Who know playing with their children is a lot easier and more enjoyable if they're in less pain.
What Makes PT 617 Physical Therapy & Performance LLC Different
One-on-One For A Full Hour With Your Doctor of Physical Therapy, Every Visit
To ensure that you are getting the highest quality of care. Every session will be one on one with a doctor of PT. No aides, no techs. Just individualized care for you with your doctor.
We are 100% committed to your recovery. Throughout your rehab process your therapist will always be accessible for any questions you may have.
You're More Than A Diagnosis
At PT 617 Physical Therapy & Performance LLC we take a look at the whole body. We are aware that the location of your pain is not always the cause. Not only do we improve your pain and reduce your symptoms, but we address the root cause of the issue and work to make your body more resilient in order to prevent further injuries.
You'll Never Get a Bill From Us Months Later After Your Visit
Unlike many physical therapy clinics- you won't get any bills months following finishing PT. With PT 617 Physical Therapy & Performance LLC you will never be surprised by a bill you were not anticipating.
We Understand the Demands of Your Life and/or Sport
We walk the talk! As physical therapists who exercise and participate in a large variety of activities/sports ourselves we understand what it takes. While many physicians and physical therapists will simply tell you to stop your desired activity we understand that avoiding the things that you enjoy most because of an injury is no way to live. Because of our background we know the importance of keeping you in the activities you love and we find ways to modify your training so you can stay in your sport throughout the rehab process.
What Other People Just Like You Are Saying About PT 617 Physical Therapy & Performance LLC in Dorchester, Boston, MA
Kendall (PT617) is fantastic. She is knowledgeable, professional, and caring. She has addressed many of my aches and pains through comprehensive movement evaluations, personalized PT programs, and individualized bodywork sessions. Booking with Kendall is quick, easy, and convenient. I highly recommend her!
Kendall is AMAZING. So knowledgeable and thorough. I have had various athletic injuries that I have experienced on and off. Through working with her, the pain has significantly decreased, my mobility has increased, and I have hope that I can keep being as active as I used to be! Would recommend anyone and everyone to her.